Commercial Roofing Systems
We provide four options- Acrylic Coatings, Silicone Coatings, Spray foam With Coating, or Dura-Last Membrane.
Duro-Last: Membrane
Duro-Last Membrane is a complete roofing system. That can be used in new construction, over the top of existing, or in a complete tear-off replacement system.
Warranty – Duro-last manufacturer inspects every roof and offers a 15-year warranty with consequential damage coverage for Duro-Last prefabricated roofing systems at no additional charge.
Duro-Shield: Acrylic
For acrylic roofing systems, there are three coats: Primer, Base coat, and Finish coat. acrylic systems are meant to extend the life of an existing roof and buying time for a full roof replacement.
Warranty: 5, 10-year warranties
Silicone
Silicone roofing system: Primer and Silicone. Single coat coating that allows for ponding water on your roof. Which makes it ideal for flat low slope roofs.
Warranty : 5, 10-year warranties.
Spray Foam Roofing
An optional layer of spray foam insulation can be added to any roof. Spray foam is useful in strengthening the existing substrate and insulating the building to lower heating and cooling cost.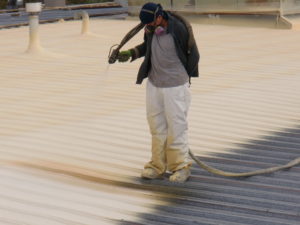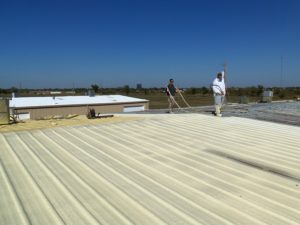 Call for a Free Estimate Today!
1-866-775-3626